Customer Testimonials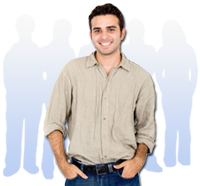 Our online Virginia driver improvement course has been completed by thousands of Virginia drivers for court ordered traffic offenses, driver license point suspensions, auto insurance discounts, and other reasons. Our course is fully approved by the Virginia DMV and accepted by Virginia general district courts.
Drivers love our course because it is easy to use, less expensive than other Virginia defensive driving courses, and contains video. Try our online Virginia driver improvement clinic today to see why VirginiaTicketSchool.com is your number one choice for defensive driving!
"I just thought I'd write to let you guys know that I learned a lot from this course."
– Cyril L.
"Sounds terrible to admit it, but I've taken my share of these classes over the years, and yours was the best one so far."
– David F.
"Overall, I was pleased with this course. I expected it to be more about traffic signs and things like that, but the information on attitude states and how they affect your driving was a different type of approach. It made me think more about the way I drive."
– Samantha I.
"Excellent course, time well spent."
– Tammy V.
"Way better than some of the comedy courses I've seen."
– Wendell C.
"My boss asked me to take this course because of a ticket I got for running a red light. The driver improvement course was informative and the videos were good. I never felt like I was being 'punished' by having to sit through this course."
– Elaine S.
"No kidding, one of your staff people spent over half an hour trying to help me get my completion reported to the Chesapeake district court. That's first rate customer service in my opinion."
– Ephraim S.
Virginia Speeding Ticket?
Our online driver improvement course can be taken for a Virginia speeding ticket, running a red light or stop sign, reckless driving, failure to yield, and most other common Virginia moving violations. This course is the perfect solution for someone who has been court or DMV ordered to attend a defensive driving program. Sign up with VirginiaTicketSchool.com today by clicking the register button.