Approved by the Virginia DMV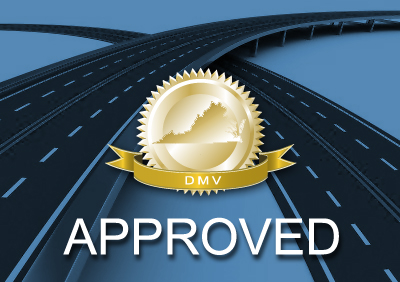 The 8-hour Virginia driver improvement clinic offered through VirginiaTicketSchool.com is fully approved by the Virginia Department of Motor Vehicles (DMV). Our course has been approved since the 1990's and has been completed by thousands of Virginia motorists.
If you are looking for an online Virginia traffic school course, be advised that not all companies offer courses that are State approved. Our course is 100% State approved and we report traffic school completions to the Virginia DMV every business day. Don't risk your license with a course that won't be accepted when you try to turn in your completion certificate to the court or the DMV.
Court Ordered Traffic School
Drivers who have received a Virginia traffic ticket might be ordered by a Virginia court to attend an 8-hour traffic school program. If this situation applies to you, you can probably take our online course, but you should still check with the court first to make sure they will accept a certificate from a computer-based driver improvement clinic. (Note: Be sure to tell the court official that our course is fully approved by the Virginia DMV.) If the court will not allow you to complete your driver improvement course online, you can still attend a Virginia classroom traffic clinic.
If you have been court-ordered to complete traffic school, the court will decide whether you are to receive demerit points for your offense. You will need to know whether you are to receive demerit points so that you can select the right reason for course attendance when you sign up. If you are not sure, check your court order or call the court that ordered you to complete a Virginia defensive driving course.
DMV Ordered Traffic School
In certains cases, a Virginia driver will be ordered by the DMV to complete an 8-hour driver improvement course. Our State approved computer-based clinic will satisfy the requirements of the Virginia DMV for any driver who has been ordered to attend traffic school. DMV ordered attendance typically applies to drivers who have received 12 demerit points (negative points) on their driver license within a 12-month period, or 18 points within a 24-month period. Another common reason for Virginia DMV ordered attendance is that a driver has collected too many points on his or her license.
If you are ordered by the Virginia DMV to attend a driver improvement clinic, you must complete the entire eight-hour course within 90 days, or the DMV will suspend your driving privilege until this requirement has been met. Students attending college outside of Virginia and members of the U.S. military and their dependents who are stationed outside of Virginia might be eligible for an extension of the 90-day requirement. The extension will be only be granted to those who are in an area where no approved clinics are offered, and will remain in effect until a break in schedule allows class attendance.
If you are not sure whether you have been DMV ordered to take a Virginia defensive driving class, please contact your local Virginia DMV office for assistance.
Virginia Driver Improvement for Safe Driver Points
The Virginia DMV allows a driver to receive up to five safe driving points once every 24 months for completing an 8-hour Virginia defensive driving school program. A driver may not accumulate more than five safe driving points on his or her Virginia driver license. These points are in addition to the safe driving points a Virginia driver receives each year for driving without committing any traffic violations. If a court orders you to attend traffic school, the court decides if you will be awarded safe driving points.
Auto Insurance Discount for Virginia Drivers
Virginia drivers might be able to obtain a discount of up to 10% off their auto insurance premium by voluntarily completing this defensive driving course. In order to find out if you are eligible to receive this discount, please contact your auto insurance provider.
Note that drivers who attend Virginia traffic school voluntarily for an insurance discount will not be eligible to receive safe driving points for this purpose. Also, any driver who is ordered by a Virginia court to attend a driver improvement clinic will not be eligible to receive an automobile insurance discount.
Call us at 1-800-222-9199 or contact us if you'd like to speak to a customer service representative.